Out of all of the universities across the nation, Florida State University has one of the most iconic and unique brands. The elements included on this page are not all encompassing, but instead serve as a starting point to help understand our brand. These elements include, but are not limited to:
Words
Symbols/Logos
Aspects of the athletic uniforms
Imagery
The garnet and gold color scheme
Words
Florida State University ®
FSU
Florida State ®
Seminole ®
Seminoles ®
Noles ®
Nole TM
F + S
State
Fear the Spear ®
Unconquered ®
Doak Campbell Stadium
Doak ®
The Tuck
Dick Howser Stadium
The Plex
JoAnne Graf Field
Legacy Golf Course
Mike Long Track
Tully
Morcom Aquatics Center
Scott Speicher Tennis Center
Mike Long Track
Westcott
Vires Artes Mores
Strength, Skill, Character
Standard Symbols/Logos
The Seminole logo, one of the most recognizable and iconic marks in sport, is the primary representation of the brand and is used as the main identifying device for Florida State Athletics. All marks including those secondary marks used, as well as the Unconquered statue and the University seal are shown in the document below.
Youth Marks
Vintage Symbols/Logos
The University's vintage athletic logos and wordmarks are not permitted for internal use, except for special circumstances with permission from Licensing and Athletics Executive Staff.
The University licenses these marks through a restricted program titled "College Vault" in retail channels. This program is restricted to a limited number of licensees who are only permitted to distribute the product into campus and mid-tier retail outlets.
Bobby Bowden
Florida State University has the honor of managing the name/image/likeness of Coach Bobby Bowden, alongside the Bowden Family. Requests to use his name and/or image on product must be submitted to the Office of Trademark Licensing for approval.
Aspects of the Athletic Uniforms
Tribal Pattern
In the early 1900s a new decorative technique was developed by Seminole women, now commonly known as patchwork. Early patterns included blocks and bars of alternating color with occasional sawtooth designs that were sewn directly into garments. Patchwork was rapidly adopted as a standard means of embellishing the Seminoles' traditionally vibrant clothing. The Seminole symbols for Arrow, Man on Horse, and Fire (top to bottom, repeating) were the inspiration for this unique pattern.
The use of the tribal pattern is only permitted by the Florida State University Athletic Association.

Font and Number System


Helmet
Florida State's trademark helmet is well known throughout all of college football. This design was first introduced during Bobby Bowden's first year as head coach in 1976.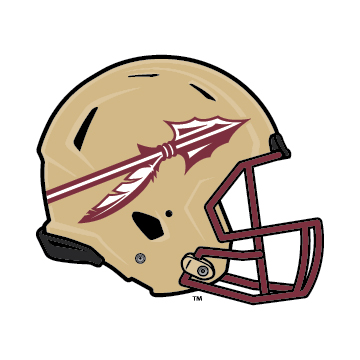 Campus Imagery and Traditions
From Westcott to Doak, from the Unconquered Statue to Landis Green, from the Tuck to Tully, from Osceola and Renegade to the Sod Cemetery. These are landmarks and traditions that are associated with Florida State University.