FLORIDA STATE UNIVERSITY
TRADEMARK LICENSING BRAND GUIDELINES
Out of all of the universities across the nation, Florida State University has one of the most iconic and unique brands. The guidelines included on this page are not all encompassing, but instead serve as a starting point to help understand our brand and ensure consistent use of marks.

Find more about our brand here.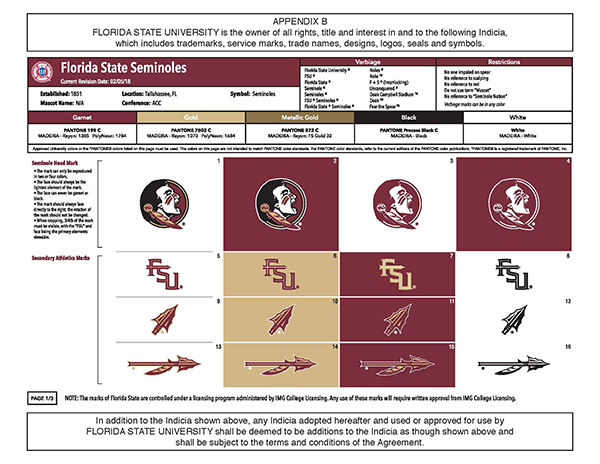 PLEASE NOTE: USE OF ANY FLORIDA STATE UNIVERSITY TRADEMARKS ON MERCHANDISE OR IN RELATION TO GOODS AND SERVICES REQUIRES THE EXPRESS PERMISSION OF FLORIDA STATE UNIVERSITY. THIS APPLIES TO ALL STUDENTS, ALUMNI, STAFF, FACULTY, MANUFACTURERS, RETAILERS, AND CUSTOMERS.
Florida State University Athletics Brand Guide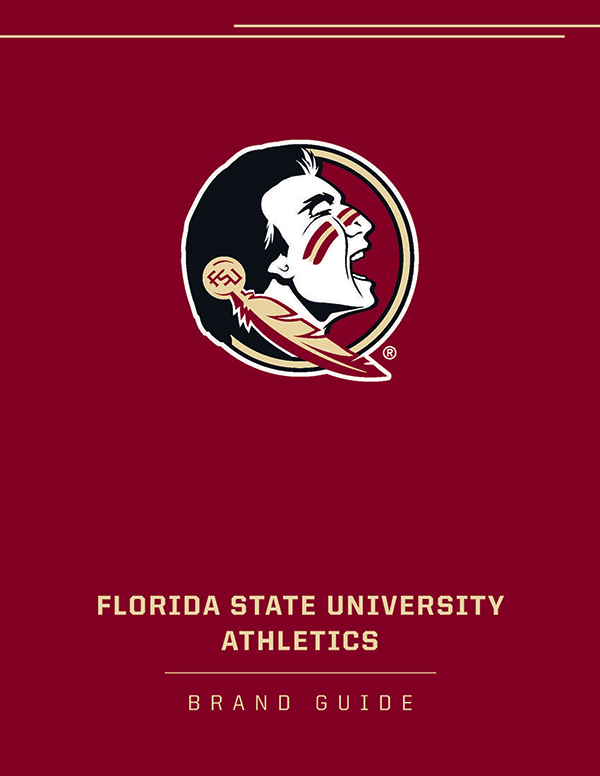 The purpose of this guide is to provide helpful guidelines that enable Florida State University staff, partners and licensees to express the Florida State brand effectively across a wide range of applications and media.
Vintage Marks
The University's vintage athletic logos and wordmarks are not permitted for internal use, except for special circumstances with permission from Licensing and Athletics Executive Staff.
The University licenses these marks through a restricted program titled "College Vault" in retail channels. This program is restricted to a limited number of licensees who are only permitted to distribute the product into campus and mid-tier retail outlets.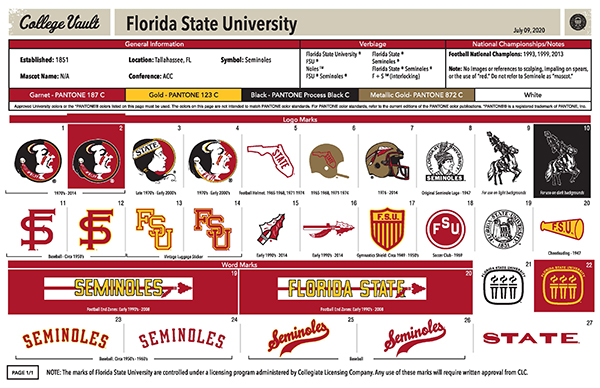 Registration Marks & Indicia Statement
All uses of University trademarks on retail or promotional products will incorporate the appropriate trademark designation symbols, ® or ™, often referred to as registration marks.
When the use of the registration mark (®) and ™ symbols are not practical (extremely high quality product, too small, too big, or used repeatedly, etc.), the statement "The Indicia depicted on this product are trademarks of the Florida State University." may be used in lieu of the registration mark or trademark. The indicia statement may appear on the product itself, the product tag, the product sticker, or on the packaging of the product. Permission is needed from the University prior to use of the Indicia statement.
For internal merchandise ordered by an academic or administrative unit, if the trademark symbol would be so small that it becomes illegible or if it detrimentally interferes with the product design, it may be omitted.
Additionally, the trademark may be omitted on official University business materials (i.g. posters, flyers, letterhead, business cards, websites, brochures, marketing materials, advertisements, etc.) and official varsity team uniforms.